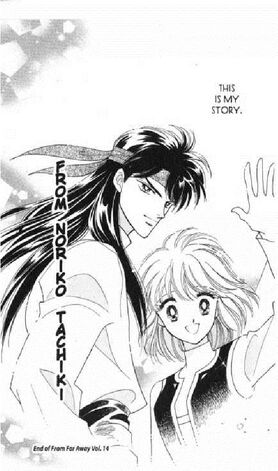 Welcome to the From Far Away Wiki
Edit
You've been transported to the magical and beautiful world of From Far Away, where everything can as much of a fantasy as it could be a nightmare! Meet Noriko Tachiki and her friends as they journey through this tale of magic, romance, and epic battles.
Here is where you will find character bios, plot line, and trivia on Kyoko Hikawa's manga series From Far Away. Feel free to edit!
On her way home from school one day, Noriko Tachiki was unexpectedly plunged into a strange and extraordinary fantasy world. Her troubles compound exponentially when she is rescued and befriended by a handsome young man named Izark Kia Tarj. He may be courageous and brave, but inside Izark lurks the darkest evil imaginable. And according to an ancient prophecy, Noriko possesses the power to unleash that evil. Now, inexorably bound together, these two unlikely allies must navigate through a world both wondrous and hostile.